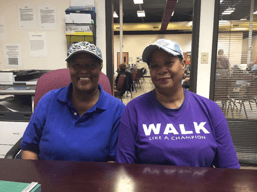 Bubbly, fun, and crazy are the three words Shirley Ingram uses to describe her best friend, Gwen Edwards. Gwen counters with loving, outgoing, and awesome to describe Shirley. Together, these matching, blinged-out hat wearing, volunteers have been called an inspiration by all that cross their paths.
Shirley Ingram was appointed to the Catholic Charities Dallas Brady Senior Service Center through AARP SCSEP (Senior Community Service Employment Program) in 2009. Originally from Kilgore, TX, she moved to Dallas in 1971 where she has one son and one grandson. When the AARP SCSEP program ended in 2013, Shirley remained a regular Brady volunteer. When asked why she chose to stay and volunteer at Brady, she explains, "I love to give back to the community and I enjoy the different cultures here. I like decorating and cheering up the seniors. If not for Brady, I'd be at home". Brady has given me so much, if Brady wasn't here, seniors would have no where to go."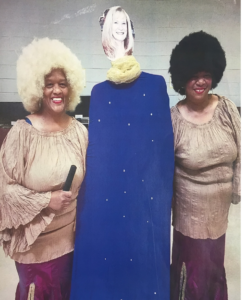 Shirley did not meet Gwen Edwards until 2012 when Gwen arrived at Brady through the same AARP SCSEP program. A native of Dallas, Gwen worked at Bank of America for 25 years and has one daughter and one granddaughter- the perfect opposite to her best friend Shirley. Initially whe
n Gwen heard she would be working at a senior center, she thought of nursing home dullness and less than fun activities. Yet, as she walked into Brady on her first day, she found anything but her initial misconceptions, "I never realized that there were senior recreation centers like Brady, this place felt warm and full of opportunity".
It was almost as if the Brady center was patiently waiting for Shirley and Gwen to cross paths in 2012. "We just hit it off, we would make bulletin boards, flyers, decorating any and everything" says Gwen. "I even gave her a card on her birthday that said we were like ice cream and cake- we just go together", Shirley chimes in. Yet the duo's largest undertaking at the Brady Center has become one of their favorites, and a favorite of the seniors at the center as well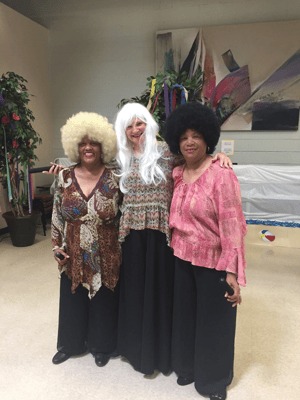 .
"We like to dance and sing" Shirley gleams. So, "We held a talent show for the Brady seniors! We were shocked at how many participants got involved. We had seniors singing, dancing, making crafts and much more!", Shirley explains.
Yet, what Shirley and Gwen did not tell the audience was the surprised that they had planned. At the end of the talent show, the duo made a Trio along with Barbara Herron, the Director of Children, Family, and Senior Services and sang the afternoon away.
In the end, "their energy, inspiration, and devotion to seniors here, Brady is better for having them here," says Barbara Herron, Director of Children, Family and Senior Services.
Thank you to our volunteers like Shirley Ingram and Gwen Edwards, your dedication to Catholic Charities Dallas clients and mission are second to none. We could not do what we do without you!